It's about to the graduation season. Do you have any ideas for your senior as graduation gifts? Have you considered the unique USB drives? Here's the best gift idea that if you send it to your senior they will cry for heart touching.
Follow the Trend
The most common gifts we can see are flowers and big card with memorable photos. However, it's not much touchable. Most of the time, we cry for sad movie or music video. A sad or touching story with visual sights and sound effects moves us much easily. So, how about making an awesome video for your senior?
Good "Story" Is Necessary
At First, collect photos and videos from activities that your senior and you both take part in. It's ok if you only have basic editing skills. All you need is have a good set. In the beginning of the film, you can add some funny, energetic, humorous materials with hot-blooded music.
Second part you can add group photos, go with touching music and some warm subtitles like: "We'll miss the days….." At the end of the film you can add several campus views, and don't forget to write some blessings.
Video with USB drives
After finish the video, it's important to find a special device to store. USB drives is a good choice. Not only is its unique, but the graduation figure is just right for graduation gifts. It's also fantastic if you have enough budgets to customize your own USB drives.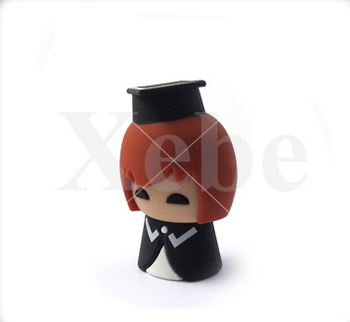 How many chances can we been through "graduation" in our life? No matter what gift you pick for others, remember it's must be meaningful and memorable!