Are you the one who always wear earphones and cannot leave away from the music? The pop music in public they play you always know the name, and can sing with the music easily. If a day without the music, it'll make you powerless and empty. You who is also the good piano player feel not right when you don't play the piano in a day. Till now, if one of descriptions are just you, then you may have music craziness!
(Photo from Flickr: Jonathan Powell)
1.Music is your miracle medicine
When you are in a bad mood, what you need to do is play the music. Not even any creative gifts can cure you. Turn up the music and swing with the song. If it's the rock song, you probably shout out with the vocalist and let worries fade away with the music.
2.Melody is always around you
You can think of the familiar melody when you see the instruments. No matter it's an instrument custom USB below that your friend send you as creative gifts or just a guitar picture. It seems they are singing to you!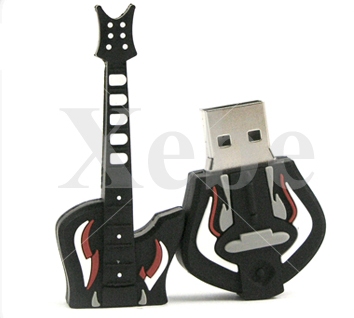 3.You like the place where have music
If the place like a restaurant, an exhibition, or an activity site are surrounded by the music, you'll score the environment a great well. Plus, if the music is just right for you, you definitely like the place or occasion forever and will visit again in the future.
4.Lyrics? Language? You never care about it.
Music is based on the melody, you never care about what it sings. What a music craziness patient cares is if the song right for their mood or soul. Even it's instrumental music, they still love it and enjoy it with full of joy. Music is no boundaries for the music craziness patient.
5.In the second, now, reading here, you are just playing the music....
HEY! You are the patient we are talking about!
Are you in a panic due to no music? Or you just imagine you are playing guitar with the custom USB your friends gave you. LOL If you are diagnosed with the music craziness, the only way to cure is listen to more and more and more music! Best wishes to all patients wondering around the fantastic music world!