Father's Day is coming! Besides having a feast with your father, sending a father's day gifts is one of ways to show your love. Here is the rank of father's day gifts, taking a brief look to have a gift idea for your dad.
1.Razor blade can give your father a clean face
(Photo from Flickr: joshjanssen)
Razor blade is one of hot father's day gifts all the time. Not only it's men's necessities but the cost is affordable. The one thing you have to consider is that if your father gets used to have a moustache or beard, then the choice should be deleted from your gifts lists.
2. Watches to show off
A man with an elegant watch can represent the unique sense and the status in workplaces or social occasions. It's like mother's luxury bags, buying a good watch for your dad can let him be pretty proud like: "WATCH! This is the WATCH that my SON/DAUGHTER gave me as GIFTS!"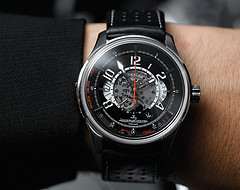 (Photo from Flickr: AlwaysThirteen)
3. Electronics are men's favorite
Mobiles, computers, camera, Ipad, home appliances or even the remote control aircraft and robots, are good items to consider. Men tend to pursue the newest, surprising products. (Oh, if you can afford a new cark, it's fine, excellent, cool to give your dad a new car.....!) Thus, see what your dad needs! If he just wants a cool robot but keeps being stopped from your mom, it's a good opportunity to buy him a new electronic!
4. USB flash drive is cool and useful
It's quite special to see USB flash drive on the rank 4. After all, seldom can we see people choose USB flash drive as father's day gifts. However, some companies pick custom USB as special gifts to their important clients. For example, the custom USB below are the gifts from car companies. The custom USB is not only good for advertising but an impressive gift for the customers.
(Photo from Xebe)
5. Massage chair for hard-working dad
Massage chair is always the best choice to express the appreciation to parents. You could let your parents enjoy the time on the chair after the work in daily life. On the other hand, it's also a good investment for yourself. After all, everyone in the family has the right to use the chair. However, the price of the chair is much higher than others. Thus, though the meaning of the massage chair pretty matches the day, it still couldn't reach the rank of three. If you really hope your parents could enjoy the massage, BE A MASSAGE CHAIR on your own!
Do you have any idea of father's day gifts? Prepare a special gift to impress your dad!